Besides revenue, which numbers do really matter to you?
Please consider this question in the position of an E-business organizer.
Finally, nine out of ten will struggle to find an alternative to attach greater importance than revenue. In fact, there are a lot more. Keep reading to find out about 10 crucial metrics to track on your eCommerce store.
10 most important eCommerce metrics
Average order value
Let's consult our prospective e-business owners!
How do you know which product deserves the bestseller of the month? And How can you judge the popularity of an item in your online store?
These two questions are not baffling if you, business organizers, pick up the rules to calculate the average order value. This metric will inform you about the purchases made by visitors in a specific period. With this knowledge in mind, you can fine-tune your marketing campaigns to make them work more effectively. Here is the formula:
Total earnings/ total purchases
Revenue by traffic source
Measuring this metric will help you know which channel is really working for you and which is not. Later, you can decide to allocate money only on a reliable and effective online channel that benefits your brand.
Sales conversion rate
Surely, there is a lot to discuss when it comes to this metric. Conversion rate is simply the number of people making a purchase on your e-business site, measured in percentage. An ideal range for this data is from one and five percent.
Well, tracking conversion rate allows you to understand customers' feedbacks and reviews on any limitations they find during the experience; thus, you can optimize your site's performance and fix the imperfections. Follow the formula:
Total sales/ total visitors
Email Opt-ins
Thanks to the rapid growth of the Internet and the ubiquity of email users, Email marketing helps a lot with attracting a larger number of buyers all over the social network. This is a good reason to persuade enterprises to focus more on Email-related metrics, including subscribers, open rate, bounce rate, click rate, etc.
Customer lifetime value
Having as many loyal buyers as possible is what business organizations are most proud of. Highly-successful enterprises have definitely been through difficult stages when they have no idea how to turn one-time buyers into repeat ones. But by tracking customer lifetime value, they will know better to invest an appropriate amount in acquiring previous buyers and boost retention rates.
Retention rate
As an e-business owner, you may want to optimize your spending and get the most profitable deals. That's why checking the retention rate is mandatory. It is cost-effective to focus on the customers your organization has long been dealing with, in place of spending more to attract new ones.
Cart abandonment rate
What makes my customers cancel?
This unanswered question is a collective obsession for many eCommerce site builders. Unsuccessful deals are mostly about cart abandonment. And cart abandonment is triggered by various factors.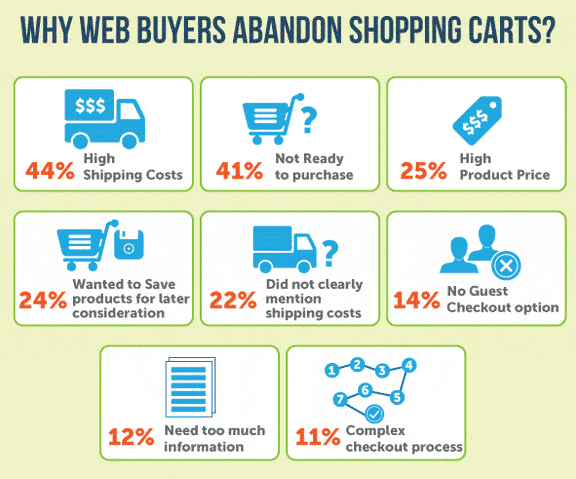 Whether it is due to casual browsing habits, insecurity or sluggish checkout service, the matter is at no time less of an annoyance. Measuring the cart abandonment rate can somehow offset the situation, at least you will be more informed of what steps to take next, instead of just crying over spilled milk.
Total number of successful deals/ number of shopping carts created
Social media conversion rate
The harsh reality is that the number of followings your brand has obtained from social media platforms has, after all, nothing to do with the actual number of buyers willing to shed money on your products. These figures are more or less virtual numbers, which will mean nothing.
What really matters is how the interaction between buyers and marketers happens online. In this event, social media metrics can offer a solution.
Calculate it yourself: Total purchases/ total marketing posts online.
Customer acquisition cost
This metric basically tells you how much has been spent on acquiring customers for your brand so that you can identify the most potential platform that generates most customers at the lowest cost possible.
Website engagement
With the help of this metric, you can keep track of the effective operation of your website, including whether the marketing campaign is serving well or which features of the site need further improvement?
Final words
It makes sense to pay attention to the 10 crucial metrics to track on your eCommerce store. Working alone on the available apps provided on social media platforms is not enough if what you want, all in all is real revenue, but not virtual figures.